Hey guys, so I recently wrote a post about rescuing a wild turtle that in ended up stuck in a relative's dirty swimming pool.
Original post here:
http://www.redearslider.com/forum/viewtopic.php?f=5&t=38560
Well, with some patience and a semi-decent pool net, I was able to finally catch him!
I plan on releasing him back to the pond where I think he came from in their neighborhood, but first I wanted to make sure if "he" is alright. I took some pictures of his shell and I'm not sure if he is a slider or another species. Any help on this would be greatly appreciated, as well as his sex and maybe age? His shell is exactly 9 inches long, front to back, and he is SUCH a beautiful turtle. He's living right now in a rubbermaid tub on my back porch until I release him. I wiped off the sludge that was covering the top of his shell and he seems to have a lot of old pitting and scars, maybe from previous shell rot?
His shell has algae that doesn't come off, even when I gently try to pick it off with my nail. Is this bad?
So basically, if anyone would be so kind as to identify species, sex, maybe age, and whether his shell is in okay enough shape to release him or if I should contact a rescue for further help, that would be AMAZING. I have to fight my turtle-loving urges to keep him because I just don't have the space right now. Also, even though he's not a super aggressive turtle and he seems to have a good demeanor (possible out of fright lol), his shell looks like it shows that he WAS wild, so it would be best to put him back and not keep him for selfish reasons... What a cutey though
PICTURES BELOW! THANKS!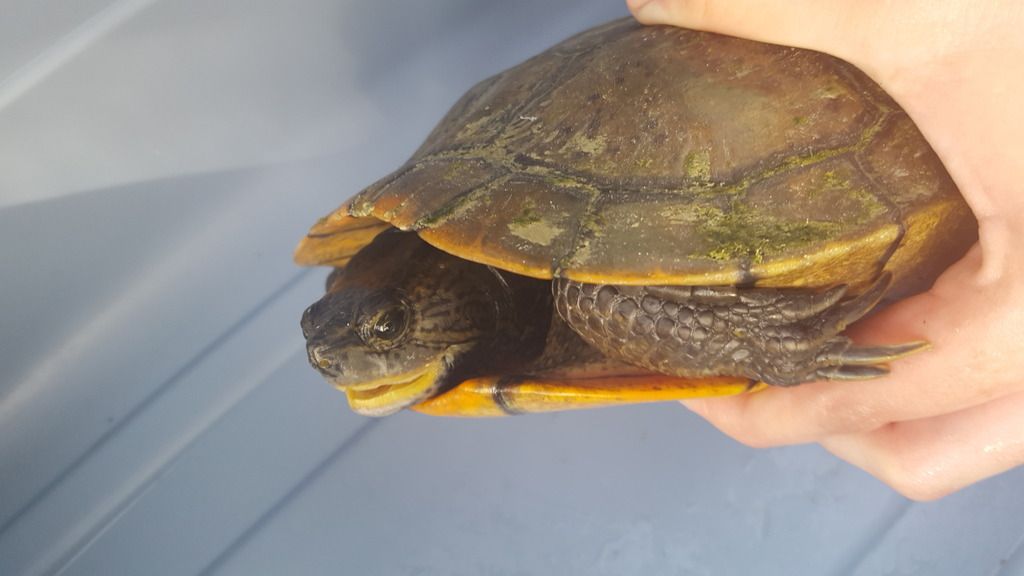 IN WATER:
BONUS PIC of Rio, my yellow-belly, ready for the holidays!!!