Since we adopted Bob, She has come along way in her new life. Remember, she wouldn't eat plants or veggies, strictly pellets. Those days are gone. She now loves all types of greenies, water plants and even an occasional rosie red once in a while (though she waits till Sheldon is finished for these). Her shell has improved immensely as has her social skills (what they are for a turt..lol). She now begs just as well as Sheldon and loves to be held and petted (used to snip at ya before).
Here are some before and after shots of her: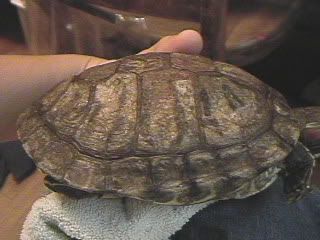 Here is what her shell USED to look like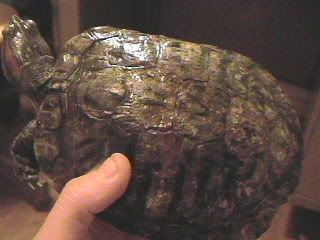 This is her shell today. If you notice, the bright orange areas are now gone and a beautiful new shell is emerging underneath. Her coloring is back around the edges as well. She even has some SHINE to her...she's not 100% yet but she's getting there.
More of her shell today.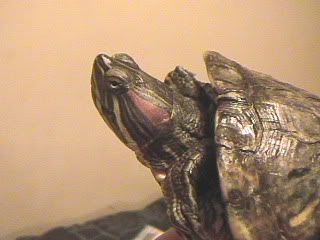 Even her ear coloring is brighter than before. She's making a great comeback.