Ok, I tried to do the "size of his head" rule...can't seem to get it.
Read the bottle of pellets: 1 tsp for EACH turtle. If that gets eaten in less than 1 hr, then increase to 1 TBL for each turtle.
Well did the 2 tsp (2 turts) and they were gone in less than 5 mins flat. Increased to 2 tablespoons and they are gone in 5 mins flat. They both get equal amounts of pellets PLUS they still have their veggies and plants.
Are my guys just pigs? Cuz they seem to want more pellets when they are finished. Oh and mine get pellets daily..not every other day (bottle says daily).
Here is a pic of the size of their heads if this helps any: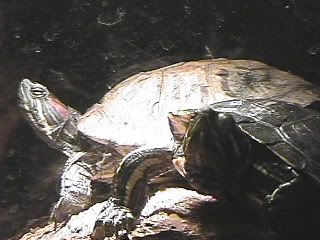 Bob is in the back of the pic, Sheldon is up front.
Holly